...but earnings for female-to-male transgender workers increased slightly.
I came across the following, somewhere on feministing (can´t find the entry again) and thought that that is an interesting study to look at.
We use the workplace experiences of transgender people – individuals who change their gender typically with hormone therapy and surgery – to provide new insights into the long-standing question of what role gender plays in shaping workplace outcomes. Using an original survey of male-to-female (MTF) and female-to-male (FTM) transgender people, we document the earnings and employment experiences of transgender people before and after their gender transitions. We find that while transgender people have the same human capital after their transitions, their workplace experiences often change radically. We estimate that average earnings for female-to-male transgender workers increase slightly following their gender transitions, while average earnings for male-to-female transgender workers fall by nearly 1/3. This finding is consistent with qualitative evidence that for many male-to-female workers, becoming a woman often brings a loss of authority, harassment, and termination, but that for many female-to-male workers, becoming a man often brings an increase in respect and authority. These findings challenge the omitted variables explanations for the gender pay gap and illustrate the often hidden and subtle processes that produce gender inequality in workplace outcomes. - from here

After reading the subject and the above we stumble upon the favorite wage gap and that its explanation is discrimination. The above implies, if you are a woman you earn 33% less, even if you have been a man before. It is not that simple. A closer look at the
study
:
Sample size

Page 13: Collecting a random sample of transsexuals is not possible, as the population is small and cannot be contacted directly through traditional means (mailings, telephone, calls, etc.). Instead, the survey was administrated in person at transsexual conferences and through a website advertisement.

Page 14: [T]the final sample consists of 43 respondents: 18 MTF transsexuals and 25 FTM transsexuals. [...] The higher proportion of FTM transsexuals is due to the selective nature of conferences we were allowed access. The Gender Odyssey conference at which 25 surveys were completed is almost exclusively a conference for FTM transsexuals. [...] Because the respondents we were able to contact are associated with transsexual organizations and conferences, the sample is skewed toward activists and individuals who are more open with their transsexual identity. However we are not directly interested in how representative our transsexual sample is of all transsexuals, but how this sample compares to the general population.
I don´t really have to loose much words on that one. This is not an empiric study more like a collection of anecdotes. And a group full of activist? Sounds a bit like cherry picking.
Different jobs
Page 18: In our sample, the transsexuals worked on average 5.8 years for their last employer prior to their gender change. In addition, 53.5 percent of the transsexuals remained with the same employer following their gender change.
So almost half of the sample was working in a different job after the sex change? What if they work in a completely different field? As a beginner in a new firm you usually get a starting salary and not the advances you already received while working your old job. These are all factors that could change the wages without discrimination taking place.
The difference between MTF and FTM
Page 18: [W]hile MTFs are on average about the same age as the general male population, FTMs are on average about 10 years younger than the general female population and 10 years younger on average than MTFs. As discussed below, we interpret this as evidence that MTFs may be attempting to preserve their male advantage at work for as long as possible, whereas FTMs may be seeking to quickly shed their disadvantaged female gender identity. A second important difference is that both MTFs and FTMs are twice as likely to have a college degree as the general population.

Page 21: The MTFs on average choose to remain in their male gender until age 40, whereas FTMs on average change their gender at age 30. [...] MTFs react to the loss they expect to receive from becoming women by minimizing these losses through delaying their gender change. FTMs, on the other hand, maximize their expected gains from becoming men by changing their gender earlier.
Those two parts were very telling. Do the authors really believe that the job someone has is that important on that persons sexuality or sexual identy? That someone who feels like being trapped in the wrong genders body is actually thinking about to stay a little bit longer in that body to "enjoy" male privilege? I don´t believe it works that way. But there is more
Page 25: Looking beyond earnings, MTFs in our sample seem to experience a wider range of workplace hardships in becoming women than FTMs experience in becoming men. [...] Shilt (2006a) finds that MTFs experience a much wider range of obstacles to openly transitioning and remaining in the same jobs than their FTM counterparts.

Page 28: Since transsexuals undergo a number of changes to their physical appearance in the process of their gender change, they may be adversly affected by a non-normative appearance. The effects of hormone therapy, the physical structure of male bodies, and the different levels of appearance scrutiny men and women face in society often causes MTFs to face more difficulties passing in their new gender than their FTM counterparts. With the use of testosterone, many FTMs develop thicker facial and body hair, deeper voices, and male-pattern baldness (Rubin 2003; Green 2004). With these masculine appearance cues, they are read as men in interactions often often within a few weeks of beginning hormone therapy. Estrogen has fewer feminizing effects on male bodies. MTFs may experience some breast growth, but they do not stop growing facial hair or develop higher voices (Griggs 1998). Estrogen cannot alter physical characteristics that are typically interpreted as masculine, such as height over six feet, visible Adam´s apples, and big hands and feet. MTFs can use feminine appearance cues as passing aids, such as feminine clothing, but these often cannot override masculine body cues. This difference in post-gender change appearance is clearly evident in our survey data. 56 percent of FTM respondents describe themselves as "always" passing as men. In contrast, 17 percent of MTFs describe themselves as "always" passing as women. Some MTFs who had been transitioned for over ten years still described themselves as only passing "sometimes". Some of the adverse employment outcomes for MTFs which we document above my be attributable to their changed appearance rather than to their changed gender. However we argue that gender is still likely a leading cause of the before and after differences we document for transsexuals.
The authors are seeing the problems but can not recognize them. There is even a word for it, Transphobia. If we look at the groups, MTF and FMT after the gender change, what do we have? A group of males, that look like males and act like males. And a group of females that lack feminity and still resemble males in height, hair groth, voice, hand and feet size. It is no surprise to me that the MTF group has it harder and again this has nothing to do with them being females. It has something to do with them being transwomen. This is a big difference and the main point that the feminist view (women earn less because of discrimination) does not apply in this situation.
A closer look at the results
This is where it all falls apart
Just compare both of our groups and ask yourself if they are compareable. Twice as much of our FTMs (the one who will be the big winner of our study) are self employed and work for the government, almost 30% more have a college degree.
And the numbers keep shrinking:
Page 23: Of the 43 repondents in the final sample who reported earnings before their gender change, 5 respondents did not report any employment after their gender change. The panel used to examine earning changes therefore consists of 38 observations: 14 MTFs and 24 FTMs.

but it gets worse. Let us look at the results table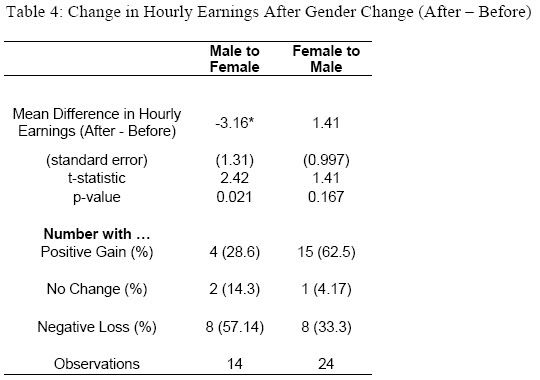 and the results are very different. 6 MTFs had no loss at all (4 had a positive gain) a little more than half of it (57.14% or 8 MTFs) really had a negative loss. Not all of them. The results on the other site do just differ when it comes to the positive gain. Almost 40% of all FTMs had no change or a negative loss. That does not sound like the "Men gain, women lose" Titel we read before? One might even wonder if the additional 11 in the positive gain group all were asked during the male only conference.
And while we were talking about percentages let us take a look at the numbers again.
Ironicly after the sex change it is the women who earn more. That is right the group with the biggest problem adjusting to the new gender, the group that looses 1/3 of their wages are still those with the biggest paycheck.
College 28.72 / 23.79 - (+20%)
No College 18,50 / 14.80 - (+10%)
Conclusion
Page 30: There are a number of limitations to this study. The small size of our sample reduces the precision of our statistical findings and precludes extensive multivariate analysis. A second limitation is our inability to control for the non-normative appearance of post-gender change transsexuals. Because of this limitation, the outcomes we document for gender change may be conflated with appearance discrimination. In an ideal experiment, we could compare a group of transsexuals who definitely pass as women with a group who do not to gain a deeper understanding of how appearance interacts with gender to affect workplace outcomes. A third limitation of our study is that gender change does not occur overnight as in the ideal experiment, but may in fact take several years.
They say it themselves. You can´t compare the hardships of transgendered people with the average women. It is a shoe that does not fit. This study may say sth about discrimination transgendered people have to face though. Nothing more and nothing less.