I am a bit frustrated with that post. I planned to do a huge article about domestic violence, but found myself going nowhere. Getting lost in the amount of information I collected. So, to have something to post I am hacking that article into more little pieces, making them easier to read and having more motivation to finish a subchapter, sadly giving up the idea on my DV-uber-post. Keep in mind that I save anything DV-study-like for the last post(s) so don´t think I am missing something here, be patient wait for the next chapter. Here it comes folks - Part 1:
"

[A]t least 90 percent of domestic violence victims are women.

"
- Christina Bates, the social change community organizer for Sunrise of Pasco, a local domestic violence and sexual assault center in Dade City

The common opinion about domestic violence (DV). Beating husbands, battered wifes. Nurturing angels abused by brutes. The patriarchy brutalising helpless women. If you believe that is true, that 9 out of 10 DV vicitms are women, please also consider the following:
Lesbian DV
If almost all DV perpetrators are male, female-female relationship must be violence free. What do statistics tell us?
About

17-45%

of lesbians report having been the victim of a least one act of physical violence perpetrated by a lesbian partner.

Sexual abuse by a woman partner has been reported by

up to 50%

of lesbians.

Psychological abuse has been reported as occurring at least one time by

24% to 90%

of lesbians.

The research usually has been done with mostly white, middle-class lesbians who are sufficiently open about their sexual orientation to have met researchers seeking participants in the lesbian community. Subsequently, these findings may not apply to women who are less open, less educated, or of other ethnic backgrounds.

Sources:

Burke, Leslie K., & Follingstad, Diane R. (1999). Violence in lesbian and gay relationships: theory, prevalence, and correlational factors. Clinical Psychology Review, 19 (5), 487-512.

Lie, Gwat-Yong, & Gentlewarrier, Sabrina. (1991). Intimate violence in lesbian relationships: Discussion of survey findings and practice implications. Journal of Social Service Research, 15 (1/2), 41-59.

Lie, Gwat-Yong, Schilit, Rebecca, Bush, Judy, Montagne, Marilyn, & Reyes, Lynn. Lesbians in currently aggressive relationships: How frequently do they report aggressive past relationships? Violence and Victims, 6, (2), 121-135.

Scherzer, Teresa. (1998). Domestic violence in lesbian relationships: Findings of the lesbian relationships research project. Journal of Lesbian Studies, 2 (1), 29-47.

Waldner-Haugrud, Lisa K., & Vaden Gratch, Linda. (1997). Sexual coercion in gay/lesbian relationships: Descriptives and gender differences. Violence and Victims, 12 (1), 87-98.

Waldner-Haugrud, Lisa K., Vaden Gratch, Linda, & Magruder, Brian. (1997). Victimization and perpetration rates of violence in gay and lesbian relationships: Gender issues explored. Violence and Victims, 12 (2), 173-184.

West, Carolyn M. (1998). Leaving a second closet: Outing partner violence in same-sex couples. In Jana L. Jasinski & Linda M. Williams (Eds.), Partner violence: A comprehensive review of 20 years of research (pp. 163-183). Thousand Oaks, CA: Sage Publications.

This is strange. Although the stereotype tells us women must be less violent and less agressive, lesbian relationships are far from being without violence. The reality seems to be quite different.
Professor Lori B. Gishick, a professor of sociology and women's studies at Warren Wilson College in North Carolina, has worked for about 10 years in battered women's organizations and has run a support group specifically for abused lesbians.

The "myth that women are not violent," is persistent and contributes to a denial of woman-to-woman sexual violence, not only among the general population but also among lesbians, says Girhick. " We want to believe that our relationships are safe, that we have equality, and that we have ideal communities. But it's not true."

The estimated incidence of domestic abuse in gay and lesbian relationships is

one out of three

. Girshick says a large number of her respondents, as children and adults, had also been sexually abused , and that the memories of these previous traumas often complicated their reaction to being assaulted by women.

According to Grishick, many of these women read books about woman-to-woman sexual violence; they went into therapy; they volunteered at rape crisis centers. For people who are part of a small lesbian community, the social implications of speaking out against their abuser can be terrifying. Girshick reports that some women did become ostracized when they told others. " I've heard stories of individuals who say ' My friends turned against me and protected her.'" There are only a handful of groups for women battered by other women in the country. Source: R. Morgan Griffin, " Breaking the Silence: Sociologist Studies Woman-to-Woman Sexual Violence," GayHealth.com; May 10, 2000.

Another study of 113 lesbians reported that 41% said they had been abused in one or more relationships. Source: Ristock, J., "And Justice for All?...The Social Context of Legal Responses to Abuse in Lesbian relationships," (1994) 7 Canadian Journal of Women and the Law 420.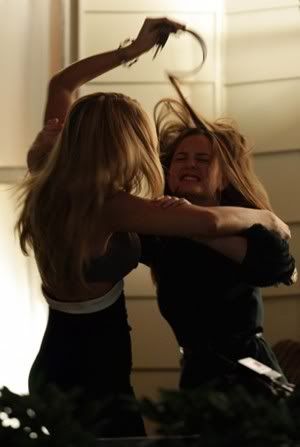 Even the myth that the batterer in lesbian relationships is the butch (in "femme" and "butch" relationships) has been debunked. No matter what "role", the likeliness to be a batterer or to be battered was the same. So what does that mean? Agression and violence has nothing to do with sex or sexual orientation. A study on aggression:
Behavior Caused by Situation, Not Sex

[...]

In fact, women have the same capacity for aggression and violence as men. If this sounds "wrong," that's because women's aggression it is not often public. Women often feel compelled to mask their aggressive behavior, especially when they know they are being watched.

Two major meta-analyses of over 206 published research studies found that men were somewhat more aggressive. However, the sex differences were not large and were inconsistent across the studies. Overall, sex differences in aggression depend on a host of factors: the situation, the perceived conse

quences of the aggression and the extent to which the aggression is public versus private.

What happens, however, when these cultural prohibitions are "turned off?" Especially, what happens to females when they think nobody's watching?

One particularly well-designed study of over 200 college students produced very strong and significant findings. The study, which was conducted by two Princeton psychologists, sheds some light on this question. In it, college students--male and female--were asked to play a computer game with an unknown partner in which the object was to bomb the "enemy" and to be bombed in return.

Which sex was more bloodthirsty? The answer depended less on gender than on whether the players were being watched. When the investigators could identify the players, women dropped significantly fewer bombs than the men.

But when the women thought they were anonymous, they bombed their opponents back to the Stone Age, in military lingo. They were significantly more aggressive than were the male students. However, when they were asked after the experiment to say how aggressive they had been, the women claimed to have been far less aggressive than the men, even though the opposite was the case. Scrutiny was a much better predictor of aggression than was gender.

Men and women are individuals and we can't make blanket statements about either sex.

[...]

It's only when we realize that men and women have the same capacities that we can look reality in the face. Women don't civilize men, nor do they humanize the military. To see women as always personifying the better angels of our nature is to wear blinders. Women are human beings, subject to our baser--as well as our better--instincts.

Dr. Rosalind Chait Barnett of Brandeis and Caryl Rivers of Boston University are the authors of "Same Difference: How Gender Myths Are Hurting Our relationships, Our Children and Our Jobs" (Basic Books). - From here

This is a good quote "men and women have the same capacities" and the above shows us that there are violent women as well. Back to our topic how can women hurt men? Don´t they lack the physical strength? More about male victims of DV in Part 2. If you are interested in more information about sexual violence among lesbians, you might want to check out this documentation:
End of Part 1 ->
Part 2