The following is about that piece:
For richer or poorer: Why divorce makes men wealthier - but women are left worse off By Emily Andrews

Women face a serious risk of being plunged into poverty after divorce – whereas men are often better off financially, a study has revealed.

Fathers in particular are left significantly wealthier, with their average available income increasing by a third. This is because most children live with their mothers after divorce.

The research was carried out by Professor Stephen Jenkins, a director of the Institute for Social and Economic Research.

His survey, called Marital Splits and Income Changes over the Longer Term, is the first to track the changing wealth levels in Britain associated with divorce.
He found that the incomes of divorced or separated men rise 'immediately and continuously' in the years following a marital split.

On average, male incomes rise by 25 per cent, whereas women's fall by a fifth, even when children are not involved.

Professor Jenkins said: 'The differences between the sexes are stark,' adding that it was often 'a parent thing' with the research showing huge differences in the effect of divorce on mothers and fathers.

Ruth Smallacombe, from law firm Family Law in Partnership, said: 'The general belief that men get fleeced by their divorces while women get richer and live off the proceeds has long been due for exposure as a pernicious myth.

'In reality, women often suffer economic hardship when they divorce.

'In addition, the resentment caused by unfair financial settlements has many knockon effects, damaging ongoing relationships with former spouses and a woman's ability to move on with her life.'

The latest research found that, when a man leaves a childless marriage, his income immediately rises on average by 25 per cent. - From AM

One only has to look at the
comments
of that Dailymail article to find a lot of people disagreeing with that research. And it is in special this article that further distorts the picture. For example especially this sentence "The latest research found that, when a man leaves a childless marriage, his income immediately rises on average by 25 per cent." does not make any sense to a thinking human being. Have you ever heard of a rise a company grants someone after a divorce? This does not happen. What happened here was a different rating of the income. But I´ll get to this in detail as I read the
original data
. Please note that when I am refering to a page I am refering to the page index in the Pdf-file. My problems with that research:
Sample Size
Page 9: It remains the case, however, that althhough subsample numbers are relatively large for this kind of study, they are relatively small by the standarts of much survey analysis, and the estimates need to be treaded with appropirate caution.
Tread it with appropriate caution does not really sound like the headline of the above article. But what can one expect?
Alimony and child support payment
This is my biggest problem with the research data and you will soon find out why "The general belief that men get fleeced by their divorces while women get richer and live off the proceeds has long been due for exposure as a pernicious myth." is by far the dumbest sentence in the Daily Mails article. But let me see if you can find the flaw:
Page 6: An indiviual`s economic circumstances in each year is measured in terms of the equivalized household net income of the household to which the indiviutal belongs. Net income is the sum across household members of income from employment and self-employment, investments and savings, private and occupational pensions, other market income and private transfers (including maintenance income), plus cash social security and socieal assistance receipts from the state, less income tax payments, employee National Insurance contributions and local taxes. Net income is the most widely used income measure in the U.K., and the basis of the official income distribution statistics (see e.g. Department for Work and Pensions 2007)
Probably not at first glance. If you look at the Daily Mail statement again you will agree with me that the "myth" that women get richer has a lot to do with alimony and child support payments. Guess what those are not considered payments by the husband according to that study. That is right. While alimony and child support payments are included in the spouses income they are NOT included as payments by the husband and therefor considered as money he still owns. I noticed this error as I read
something
about the "OECD Growing Unequal 2008" and "EU Study on Income and living Conditions" which apparently have the same error. So the husband´s income is after divorce seen excactly the way it was before the divorce, minus the children. Are you surprised there is a huge difference in that data? I am not. But let us look at the data again:
Page 10: By contrast, there is a large difference for separation husbands: for those without dependent children at t, the median change is 0 per cent; for those with dependent children, it is +32 per cent. As explained by Jarvis and Jenkins (1999) this differential is in part due to changes in household composition rather than changes in money income. Changes in incomes that are unadjusted for differences in household size and composition are similar for the two groups but, because children mostly live with their mother rather than their father after a maritial split, the equivalence scale factor for fathers falls markedly, thereby increasing equivalised income.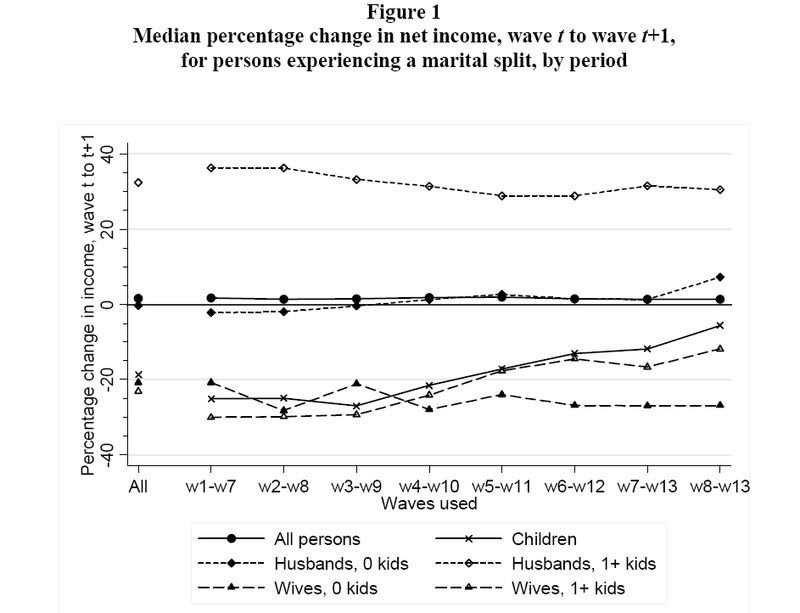 Do you see that? Look at the graph. The ones that raise husbands above the zero percentage level are husbands with kids. Those who are the ones where alimony and child support payments were not considered. We are talking about 476 of 803 husbands in total or 59% of the husband´s sample in an already small study. Someone might think the results are skewered by that calculation. Interestingly not the author:
Page 10: In principle, income gains for separating fathers may be over-estimated, because child support payments are not deducted from my definition of income. However, in practice, the bias is likely to be small: see the sensitivity analysis undertaken by Jarvis and Jenkins (1999)
I doubt this. But let us get into detail:
In essence, if your net is greater than £200 a week, you'll pay 15% of it for one child, 20% of it for two and 25% for three children. That figure can change if some of the children are living with you, if you pay the mortgage on the home where they live, school fees, or if the children regularly stay with you during the week.

[...]

There are those who make a net income of less than £200 but still have to pay child support, In those cases it's harder to figure out exactly, but as a rough guide, estimate £5 a week on top of which there's a percentage for the amount over £100 you make.

Where the net income is under £100 a week - which generally means the person is on benefits, the rate to be paid is £5 per child per week, which can be directly deducted from the benefit payments. - from here

So those husbands with children actually pay 15-25% in child support payments and this will not skewer the statistics? Not even including alimony but this will definately lower the graph by at least 15%. An example using the McClemens scale (as described in the appendix below) to calculate the equivalent net household income:
Father (0,61) earns £400 a week
Mother (0,39) earns £100 a week
Kid age 13 (0,27)
Kid age 15 (0,27)
Weekly net total -> £500 -> Via McClemens scale (1,54) -> £325

After the separation the children stay with the mother while the father pays child support (20% /£80)

Mother (0,61)
Kid age 13 (0,27)
Kid age 15 (0,27)
Weekly net total -> £180 -> Via McClemens scale (1,15) -> £156 (-52%)

Data without alimony like in the study
Father
Weekly net total -> £400 (+23%)

Data with alimony -> reality
Father
Weekly net total -> £320 (-2%)
And her is the crux of this study. In my example we have a whopping 23% additional net income without child support. With child support however you have -2%. It is the same sum as husbands without children have! The wife´s percentage will be closer to the percentage in the study if we calculate other values on to that number, as this is of course a very simple example. Now look at his paycheck. In the calculation he is losing 20% of his income and the study would tell us that he is actually gaining another 23%. Out of reality.
Scaling distorts
A big problem with the scaled view is that it actually confuses more than it does give answers. One example. Let us assume Paul and Mary earned the same amount before, during and after marriage. There are no children, alimony payments etc. Everyone will agree with me if there is nothing to split on and you earn the same after marriage than you earned before. But not if we use scaling again:
Before marriage:
Paul earns £400 a week
Mary earns £100 a week

During marriage with scaling
Paul (0,61)
Mary (0,39)
Weekly net total -> £500 -> Via McClemens scale (1,00) -> £500

After the separation:
Paul earns £400 a week -> -20%
Mary earns £100 a week -> -80%

If you think about it this is an absolut logicial and fair development. Why shouldn´t you earn the same after marriage than before? And of course compared to the combined income both now earn less. Basicly the one with the best paid job will have a lower change in percentage than the less earning one. Of course this skewers our view of the whole situation as well.
Another problem comes with very poor families with children. If the father is the only breadwinner, the wife and children leave him and he is too poor to even pay child support he will again be on the top of our graph and among the group of our big winners. Although we were in his case talking about poor and poorer and not, as the title suggests, about poorer and wealthier.
Conclusion
This really is a nonsense article and a confusing and biased study. Considering the myths Emily Andrews talks about, I guess we can all agree that as long as such cases happen:
A wife has been awarded £50,000 in maintenance for her horses as part of a £1.5m divorce package in a landmark case that could spark bitter disputes over pets.

The woman, who has not been named, was awarded the yearly sum after appeal judges agreed her three horses were a key part of her life.

They also ruled she should be given a lump sum of £900,000 from her ex-husband, a banker in the City, to allow her to buy a house with enough land for the animals.

Lawyers believe the case could break new ground in divorce cases with couples claiming maintenance for their pets as well as themselves and their children.

The talented rider's annual package came to £80,000, including the £50,000 for her three animals which the court heard were almost a child substitute.

The couple, who live in Gloucestershire, had been married for 11 years but had no children after she lost a baby in 2001...

She had given up her part-time job in a financial company after they married while her husband carried on working in the City.

[...]

Judge Segal said: 'In any event, the wife does not want a 9-to-5 job, because this would not give her enough time with her horses...' - Found here

those "myths" will always be arround. And while the article gives the impression that women have a harder time after divorce, reality is a whole different story. Considering happiness:
Divorce makes men feel devastated, confused, betrayed and even suicidal; while women are more likely to feel relieved, liberated and happy following a split, according to a report published today.

[...]

The survey, which questioned 3,515 divorced adults about the impact of their marital break-up, found that nearly three-quarters of those separating more than two years ago were happier now. Splitting up within the last 2 years had left 57% of divorcees happier.

[...]

Recent splits had left 23% of men devastated, whereas with women the figure was lower at 20%. Of recently divorced women, 46% said they felt "liberated" at being single; only 37% of the men concurred.

Among the recent divorcees, 7% of men said they were "suicidal", as opposed to just 3% of women.

[...]

Men were more likely to take time off from work (8% versus 6%) as well as being more likely to be unable to work as well as usual (13% versus 10%). More women will spend more of their time with friends (51% versus 38%), while men are more likely to turn to alcohol (33% to 23%) or casual sex (23% versus 12%).

[...]


More than two years after a divorce, 41% of men were still sad about the failure of their marriage; for women the figure was only 33%. - From here

Suicide rates after divorce:
RESULTSFor the entire sample, higher risks of suicide were found in divorced than in married persons. Divorced and separated persons were over twice as likely to commit suicide as married persons (RR=2.08, 95% confidence intervals (95% CI) 1.58, 2.72). Being single or widowed had no significant effect on suicide risk. When data were stratified by sex, it was observed that the risk of suicide among divorced men was over twice that of married men (RR=2.38, CI 1.77, 3.20). Among women, however, there were no statistically significant differentials in the risk of suicide by marital status categories.

CONCLUSIONSMarital status, especially divorce, has strong net effect on mortality from suicide, but only among men. The study showed that in epidemiological research on suicide, more accurate results would be obtained if samples are stratified on the basis of key demographic or social characteristics. The study further observed that failure to control for relevant socioeconomic variables or combining men and women in the same models could produce misleading results. - From here

And let us not forget that women initiate 2/3 of all divorces and can legally keep his children away from him and the picture really looks different. All in all truly a misguiding article.
See also the
follow up
.
Appendix:
McClemens Scale:



1. A score was allocated to each household member, and these were added together to produce an overall household McClemens score.
Household members were given scores as follows:

| | |
| --- | --- |
| First adult (head) | 0.61 |
| Spouse/partner of head | 0.39 |
| Other second adult | 0.46 |
| Third adult | 0.42 |
| Subsequent adults | 0.36 |
| Dependent aged 0-1 | 0.09 |
| Dependent aged 2-4 | 0.18 |
| Dependent aged 5-7 | 0.21 |
| Dependent aged 8-10 | 0.23 |
| Dependent aged 11-12 | 0.25 |
| Dependent aged 13-15 | 0.27 |
| Dependent aged 16+ | 0.36 |


-> From here
OECD Scale

:


1.0 (for the householder of any age)
0.5 (for each additional member age 14 and over)
0.3 (for each additional member under age 14)

-> From here