Rape victims in the military again. As noticed by
TS
, (
link to the original article
) those victims fall under the radar as well.
Some numbers:
There is a widespread presumption that most victims of sexual assault in the military services are women. That presumption, however, is false.

In a 2006 survey of active-duty troops, 6.8 percent of women and 1.8 percent of men said they had experienced unwanted sexual contact in the previous 12 months. Since there are far more men than women in the services, that translates into roughly 22,000 men and 14,000 women.

Among women, the number of victims who report their assaults is small. Among men, it is infinitesimal. Last year the services received 2,530 reports of sexual assault involving female victims – and 220 involving male victims.

According to a 2007 study by a team of VA researchers, a nationwide screening of veterans seeking VA services turned up more than 60,000 with sexual trauma. More than half of those – nearly 32,000 – were men.

And a common theme emerges again. Although most victims are men, men are far less likely to tell.
The effect that activism can have on rape rates is
quite impressive
.
Reported rapes have fallen to the lowest level in 20 years as DNA evidence helps send more rapists to prison and victims are more willing to work with police and prosecutors, victims advocates and crime researchers say.

The FBI estimates 89,000 women reported being raped in 2008 — 29 women for every 100,000 people. That's down from a high of 109,062 reported rapes in 1992 — 43 women for every 100,000 people.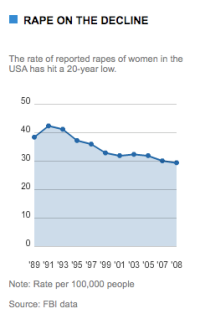 Keep in mind that raising awareness should have a different effect on the rape rates as more people are reporting. This makes the decline even more impressive. (Although the article mentions FBI data, I am pretty sure we are talking about the National Crime Victimization Survey.)
I guess it is time to look at every victim.